Energy Code Guide for Commercial Construction in Utah
2015 International Energy Conservation Code (IECC)
R401.2

Application
Commercial buildings shall comply with either:
OR
Shall use only one code option for the envelope, mechanical, and lighting compliance – no mixing of IECC and ASHRAE.
C103.2 – 103.3

Construction Documents
All thermal performance values and factors must be identical and included on:
Plans
Specifications
Energy Compliance Documents
HVAC Design Calculation
Utah Climate Zones by County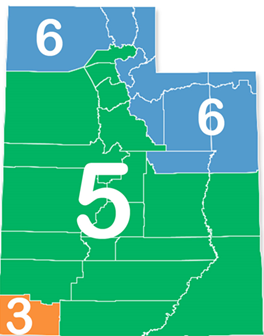 IECC Compliance Options
Prescriptive – Includes UA Trade-off OR Total Building Performance
2015 IECC Prescriptive & Trade-off Options
Comply with requirements of:
C402 – Envelope
C403 – Mechanical
C404 – Service Water Heating (SWH)
C405 – Lighting
AND Pick 1 of 6 Additional Efficiency Options:
C406.2 – Increase HVAC efficiency
C406.3 – Reduced Lighting Power Density
C406.4 – Enhanced Lighting Controls
C406.5 – On-site Renewable Energy
C406.6 – Dedicated Ventilation Systems
C406.7 – High Efficiency SWH
C-402.2 – 402.4

Specific Envelope Requirements
Continuous insulation
Frame and Mass walls
Floor and Slab-on-grade floors
Roof reflectance – Climate Zone 3 only
30% of gross wall area limit on fenestration

Increase to 40% with daylight responsive controls

Minimum skylight area for spaces > 2500 ft2

3% of gross roof area limit on skylights

Increase to 5% with daylight responsive controls
2015 IECC Prescriptive Option
Opaque Thermal Envelope Requirements Comply with: Table C402.1.3 – R-Value Method OR Table C402.1.4 – U-Factor Method AND Table C402.4 – Fenestration U-Factor and SHGC
Trade-Off Option (Prescriptive alternate)
C402.1.5 – Component performance alternative
Perform UA calculation with COMcheck OR
Equation 4-2
Mandatory Requirements
C402.5 Air Leakage-Thermal Envelope Comply with C402.5.1 through C402.5.8 OR test at 75Pa, to a leakage ≤ 0.40 cfm/ft2
Air Barriers – construction, materials, assemblies
Fenestration leakage
Rooms containing fuel burning appliances
Vestibules
Air intakes, exhaust openings, stairs & shafts
2015 IECC Performance Option
Comply with requirements of:
C407 – Total Building Performance
C402.5 – Air Leakage
C403.2 – Provisions applicable to all mechanical systems
C404 – SWH
C405.2, C405.3, C405.5 & C405.6 – Lighting AND C401.2(3)- Building Energy
MECHANICAL
Applies to all heating, cooling, ventilation, walk-in coolers & freezers & refrigerated warehouses
C403.2

Mandatory Requirements
Equipment sizing
Equipment performance – efficiency
Control requirements – set points

Snow melt
Zoning
Freeze protection
Economizer Fault Detection
Boiler reset

Ventilation

Demand Controlled ventilation
Enclosed parking ventilation
Energy Recover ventilation
Kitchen Exhaust

Duct Sealing & Insulation
Piping insulation
Fan motor horsepower & efficiency
Heating outside a building – controls
Comprehensive refrigeration/freezer requirements
C403.3

Economizers
Required for cooling system ≥ 54,000 Btu/hr
Controls and design dependent on use
C403.4

Hydronic and Multi-zone
VAV system places limits on reducing airflows to minimums, re-heat, & fan horsepower
C403.4.5

Heat Recovery for Service Water Heating
For buildings with high continuous water demand (example – hotel) > 6,000,000 BTU/hr, use A/C rejection heat
C404

Service Water Heating
Equipment performance
Higher efficiency where demand is high
Heat traps & piping insulation
C404.5
– Efficient piping size and length
C406.6
– Heated water re-circulation
C404.9
– Pools and Spas
C405.1

Controls & Maximum Lighting Power Density for Interior & Exterior Lighting
Occupancy sensors
Time switch controls
Lighting reduction controls
Daylight Responsive controls

Reduce artificial lighting automatically

Daylight zones – independent control in areas
Exterior lighting automatic operate per available natural light
C405.4

Interior Lighting Power
Total connected interior lighting power (TCLP)
Building area methodOR
Space by space method
Tables for both methods based on use of area or space
Additional allowances for specific lighting functions
C405.5

Exterior Lighting Power
Lighting power allowance based on space; parking, walkway, entry etc.
Trade-offs allowed between some space types
Total allowable lighting based on area

Developed forest, park – rural
Residential
Other
High activity commercial
C405.8

Electrical Motors
Nominal full load efficiency per table, based on horsepower
C405.9

Vertical Horizontal Transportation Systems & Equipment
Elevators, escalators and moving walks
Light limits elevators
Control to reduce speed when unoccupied
Regenerative drive down operation escalator
C408

System Commissioning
Must have commission plan at design stage
Air and water balance
Functional testing sequence of operation
Control calibration of mechanical, SWH and lighting
Final Commissioning Report
Copyright © 2023 State of Utah - All rights reserved.